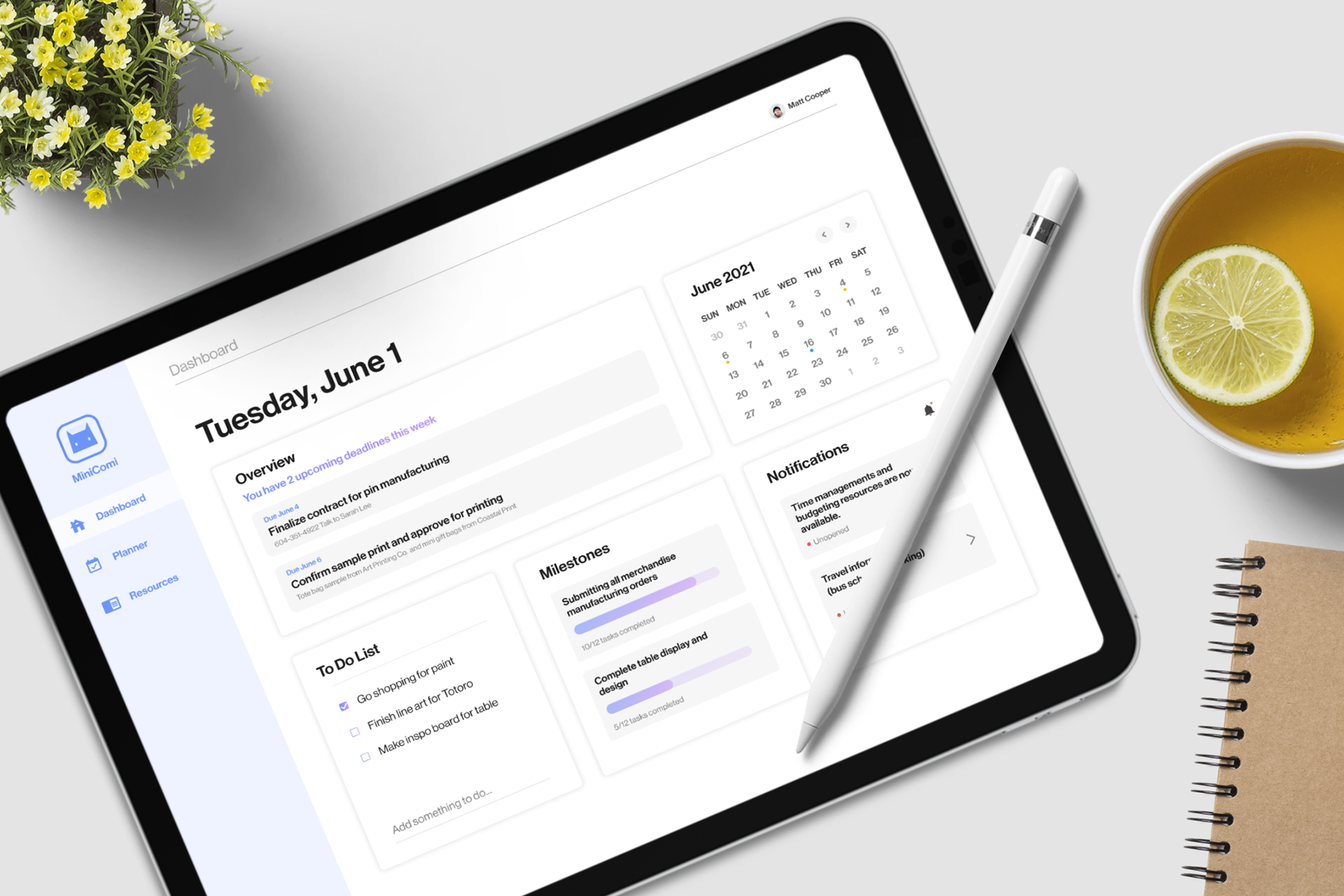 Design Research, Web Application
Figma, Miro
Vancouver Society for the Creation of Independent Art (MiniComi Organizer)
UI/UX Designer, Design Researcher
Jason Chung, Mady Smiciklas, Sophia Wang
The Vancouver Society for the Creation of Independent Art (VSCIA) is a non-profit organization that organizes art events in the Greater Vancouver area, promoting local artists through these events and other engagements. They are the organizer of MiniComi, an annual free all-ages art market in Vancouver. 
Due to the pandemic, MiniComi was cancelled in 2020 and 2021. During their events' downtime, they kindly allowed us to work with them on a project to research their current state, challenges and opportunities, and help them create a solution to aid their events in 2022 and beyond.
To understand the climate for VSCIA board members, previous MiniComi artists and unaffiliated artists in Vancouver, we designed interviews and a survey to speak to them about their experiences in the art selling business, personal values, pandemic-related struggles, as well as their experience at art-related events. We participated in board meetings, 8 interviews and 6 written surveys.
Artists value a sense of community and love seeing familiar faces, as it can be hard for new artists to enter art communities. They also struggle with preparation for art conventions/markets, as it can be daunting to talk about and promote their work.
Artists want to be part of a supportive environment to help them navigate through the art convention process.
How might VSCIA create a sense of community between new and experienced artists?
Artist Persona & Journey Map
To better understand the artists attending MiniComi, we created a persona for an amateur artist and their art convention journey map, from the initial registration phase to the post event phase. (Click to open full image)
During our interview and persona creation phase, we discovered a disconnect between the artists' desires for MiniComi and the VSCIA board members in the months leading up to the event. We redefined our scope to focus on this part of the user journey.
Artists found it difficult to network during the event as they had to monitor their art table (6-8 hours). 90% of surveyed/interviewed artists wished they had received guidance for their first convention, and hoped the organizers could provide consistent communications.
Looking at our stakeholders' goals, we also found that they were unaligned with each other. A large part of why artists attended MiniComi was for the connection to other artists, whereas organizers believed artists' main goal was to sell their art. For newer artists, networking and learning from their peers is integral to learning the "ins-and-outs" of art conventions.
How might we ensure artists can get the support they need and encourage more open communication between organizers and artists?
Our design framing coming into participatory workshops was focused on helping VSCIA achieve three key goals:
1. Networking between artists
2. Providing guidance for newer artists
3. Creating more organic interactions between VSCIA (organizers) and MiniComi artists.
MiniComi Artists Workshop
This workshop was held with a few past artists that sold art at MiniComi prior to the pandemic.
We provided general prompts that stood out during research, interviews, and surveys we previously conducted, while artists were given sticky notes to post their opinions and thoughts. The goal here was to discover issues and hurdles artists encountered at major points of their planning process and event attendance.
Using horizontal rows of blank sticky notes, participants imagined their own ideal art convention event and listed out each step of their experience from start to end. The goal here was to understand how and ideal event would look for artists and how it might differ from the organizers' view.
Using the artists' input on the previous activities, we took the suggestions and ideas they had mentioned and asked them to sort these ideas into a ranking from least to most important.
VSCIA (Organizers) Workshop
This workshop was held with a few VSCIA board members, including their president after the artist workshop, which allowed us to integrate what the artists' answered and have VSCIA work through their ideas.
We provided them with "Planning and Preparation"-based topics and encouraged them to share their personal views, opinions, and hurdles while working with their team and with artists. The goal here was to investigate the differences with the artists' answers.
Based on the 4 most outstanding pain points uncovered during the artists' workshop, VSCIA board members discussed why each of these problems were happening. With the answer, we continued to ask why 4 more times until we came to the core of the problem and created potential solutions.
Based on the core problems and opportunities identified, board members were asked to sort these from least feasible to most feasible, until we were left with a clear view on the priorities that VSCIA was able to solve.
Workshop Insights
The workshops reaffirmed our previously identified pain points and opportunities, allowing us to be more confident moving forward with our solution.
1. Financial Management - hard to manage cost of materials, display equipment, finding vendors for merchandise manufacturing, and having enough money to cover costs
2. Pre-Convention Interactions - artists found it difficult to connect with other artists, and lacked mentorship support and guidance.
1. Artist to Artist Connections - hard for organizers to reach out and force connections between artists, greatly based on artists' own initiative outside MiniComi
2. Lack of Interaction with Artists - realized they do not allocate time into communicating with artists, nor are artists incentivized to engage with the organizing process
1. Artist Networking Opportunities - help artists connect with each other and receive local art convention guidance from previous MiniComi artists through guidance packages or mentorship.
2. Increased Two-Way Communication between VSCIA and Artists - board members want to focus on providing preparation resources for artists through workshops and more regular check-ins.
Final Design Solution
With the feasibility of VSCIA and the new opportunities identified, we brainstormed and reworked many of our early concept ideas. 
Our final concept is a
digital application that walks through resources, what to expect for the event, and what to consider at different points in the planning process.
Value Proposition
1.
Improves the artist's MiniComi experience by better informing and preparing them for the convention.
This allows them to feel more confident at the convention and focus more on promoting their art and making connections.
2.
Creates a foundation for future collaborative relationships between VSCIA and artists.
As they already have senior artists interested in providing guidance and resources, creating a platform encourages existing artists to get more involved with the organizing process.
MiniComi Planning App
A web & mobile application focusing on guiding artists through the planning and preparation process.
Dashboard
A web and mobile dashboard with upcoming deadlines, to-do lists, milestones, and resources.
Recommended Timeline
Artists can customize a recommended timeline or start from scratch with the Planner functionality.
Easy Access to Resources
Resources include both MiniComi specific advice and external resources. Organizers can add day-of-event information here.
Customizable Tasks and Notifications
Artists can enable notifications for goals and milestones for desktop and mobile.
Cross-Platform Support
With a full web and mobile dashboard, users can plan on web, and access information on-the-go during the event.
Closing Thoughts
Coming into this project, I definitely did not expect to focus so much on the actual researching, interviewing, and workshopping process. Having changed our design focus multiple times and struggling earlier on to figure out what problem we could solve, it was very gratifying to see our work paid off during the participatory workshops.
Presenting our findings and solution to the board members after the completion of our project was definitely a highlight. Although our solution may have been a bit too wide in scope and financial commitment, we wanted to show them an ideal solution, which I was worried about. However, I was glad to hear that they learned a lot through the process and were thinking of taking a lot of ideas from our final solution to implement.

In the future, I hope to have more experiences where I can learn about the relationship between organizations and their patrons, and hopefully solve problems for them creatively.